So if you click here, you can check out the short video clip (I'm the hatted one) of our adventures at this year's Thing.
Our rather bare table (damn those badges and tee-shirts for not arriving), absolutely covered in duck-tape. Visitors could guess how much duck-tape was used in the making of it and possibly win a t-shirt:
Thankfully these flyers made the table look no so bare. If anyone showed interest in the comic, I'd thrust them a copy of both and smile enticingly:
People (that's joe on the left, longtime friend and Sylver, a regular reader, on the right!: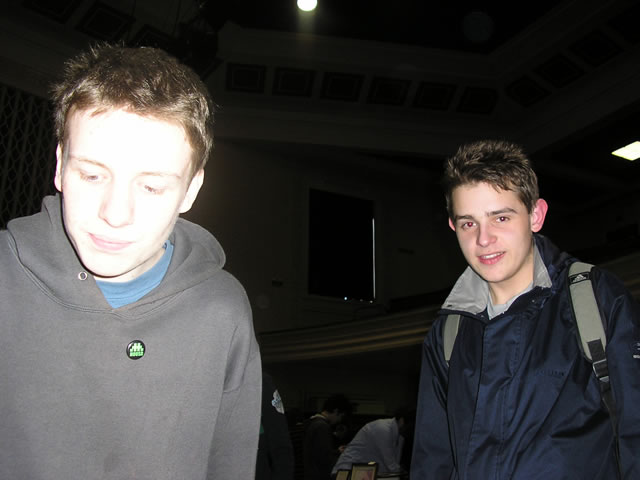 The sizable hall we were all in, trying to paw our stuff off to people: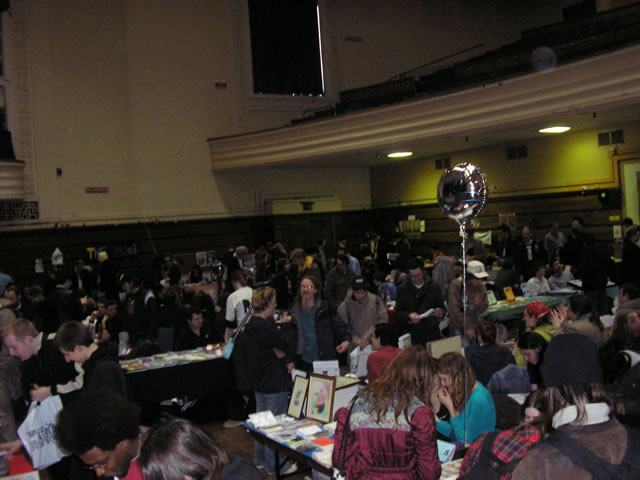 The sexy swedish girl. Need I say more?:
The anti-thief laptop setup:
So with my first convention underneath my belt, I know what to expect from these now. I had a few little chats with some cool people, including Madsen, Lorenzo and James. Oh, and Jonti stole some of my duck-tape. It seemed everyone was coming along and asking to have some and I think next year, we're going to have to outdo ourselves even more. Blink Twice had a great big backdrop display, made up of a fair few A3 sheets stuck together, totalling maybe 3 metres wide by 4 metres tall. It's inspired me to organise some big b_e character cutouts for next time.
The exhibition also opened my eyes to how interesting print comics can actually be. Previously, I thought they were a bit old and boring (well not boring, just not as interesting as web) but now I'm very much into it and explore that side of things, using staple bound comics.
If you went along, I hope you enjoyed it! If you weren't there, then force yourself to go in 2007 : P