For those that couldn't make it to Thing 2007, here's a lovely report with words and picture but unfortunately no video. What little footage I took was very poor, so no video.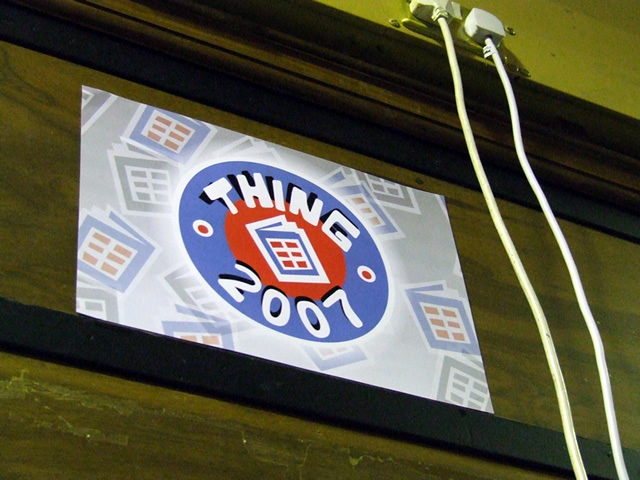 I think the beginning is the best place to begin, as you'd expect. I woke up at 5am on the day of the event to pick up helper monkey assistants (friends) and catch the train at around 7am. We had the whole carriage to ourselves pretty much, afterall, it was early on a Saturday morning. Whilst we rode to London along the rails, we sang lines from songs but replacing key words with the word 'cherry'. For example 'Stop! Cherry time.', 'What's that coming over the hill? Is it a cherry? Is it a cherry?' or 'I know the cherries fit, because I watched them fall away'. Before we knew it, we pulled into Paddington Station.
We felt a bit suspicious walking about with two big boxes (with adjoining duck-tape handles, of course) and tried our best not to look like we were explosive. I couldn't help thinking if we weren't white, we would've definately been stopped but that might just be me and my warped impression. Anyway, took the underground to Mile End and managed to find the event easier than last year. Got into the 'Great Hall' at 9am and began setting up.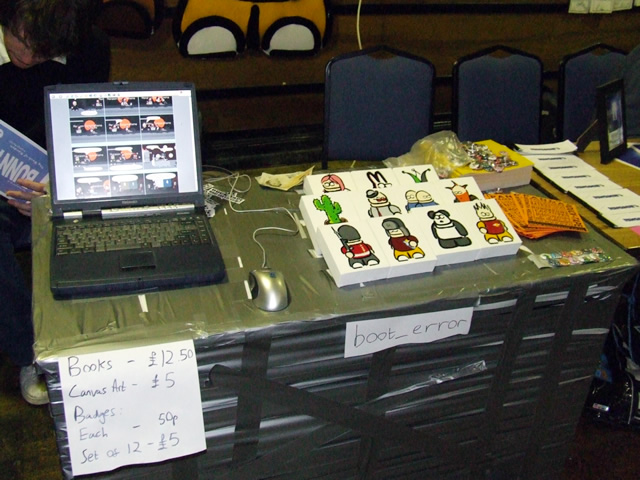 Taping the table took a good half of the hour we had to prepare (and took about the same amount of time to take off at the end) and then stuck the laptop on, arranged the canvases as nicely as I could and duck-taped a set of badges down for display.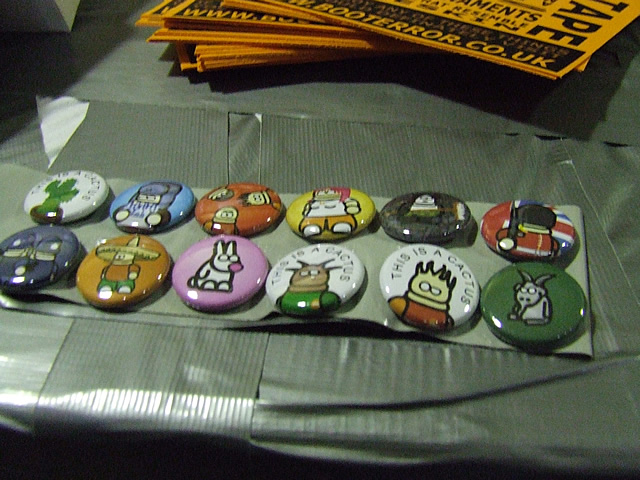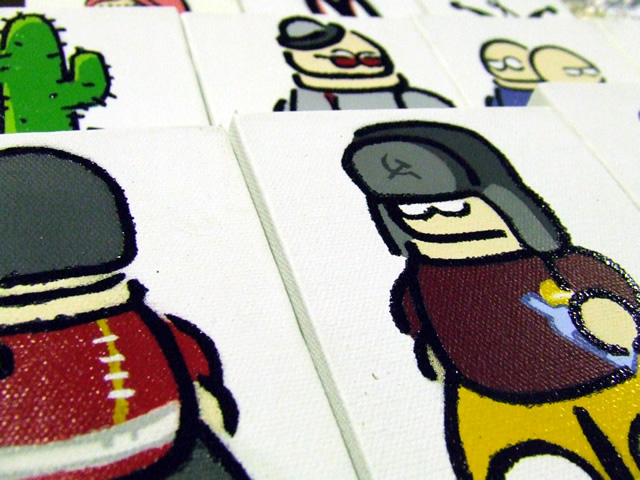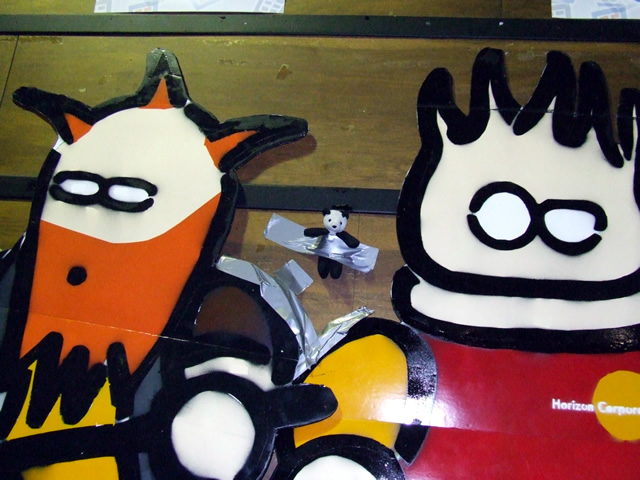 These chaps were duck-taped up behind us, with Erik the Orange and Ed measuring about 1.3metres tall. Panda did not measure 1.3metres, as you might've guessed. He was smaller. Probably. We just finished getting the table ready as 'the public' were allowed entry at 10am and started wandering about.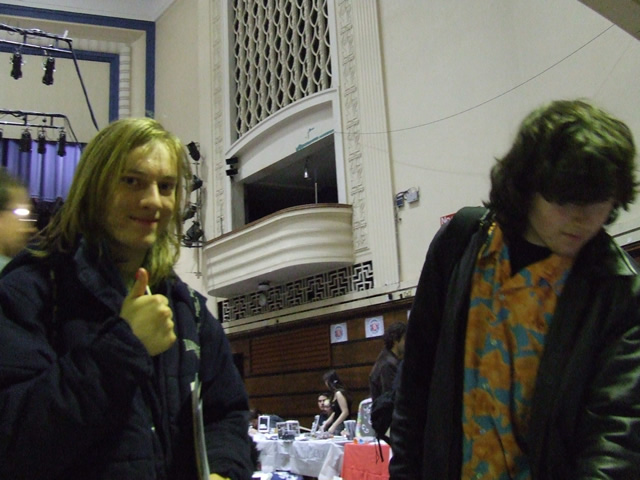 Amongst the rampaging public was 'boot_error fan', who came last year too, and 8ilbo, sporting a funky t-shirt. They'd wander around and then return regailing us with tales of peril and awe. It was great seeing you readers : D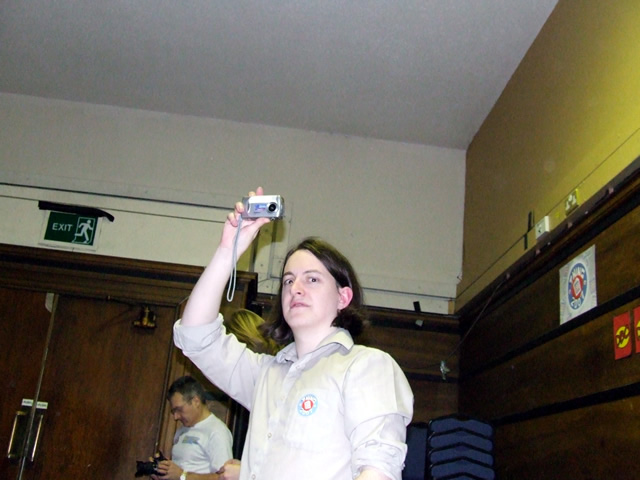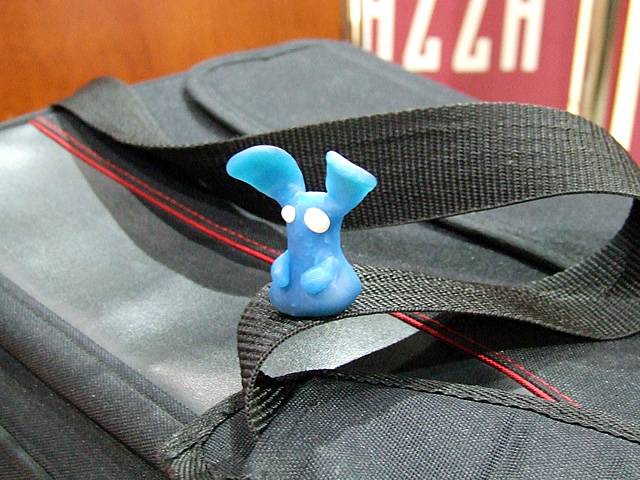 Flanking our right, the mighty Lem (looking rather devious), of Bunny fame, made for great company. He was pawning off his gorgeously pink book, posters and most interesting of all, tiny bunny figures. They'd catch people's eyes and they'd deliberate for ages on which one to buy. They were indeed unique and looked rather cute. My suggestion that he just produce them and cover his table with them next year was noted but I have my doubts about it happening ; )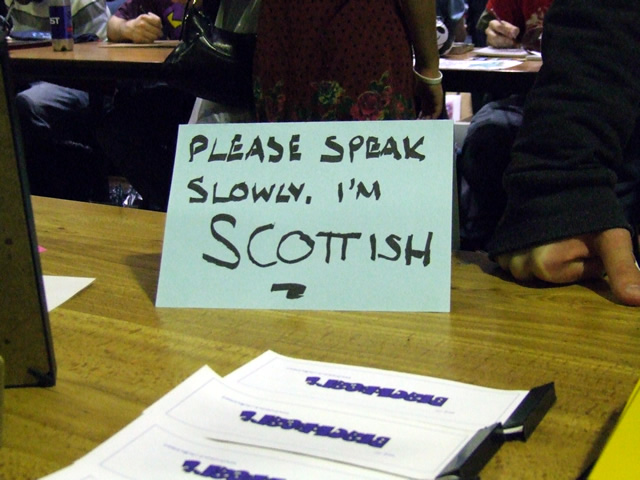 To our left was Marshal, the creator of Blackheart, and as you can see, was Scottish. He had some prints and cheque-book-like books for sale. Another good guy to be surrounded by, who fed us with surplus kit-kats and doritoes. If it wasn't for him, I would've collapsed from hunger. He also managed to develop a not so subtle way of catching people's attentions; when the unsuspecting victim passed his table, he'd simply thrust out his arms and shout 'STOP!' and damn did it work! They'd stop dead in their tracks.
As the day went on, people came and went, with those staying, circling the event like a race track, only at a much more casual pace. The hall was littered with the Thing's logo (which I haddesigned) on posters, badges, stickers and the giant banner you can see in the background there.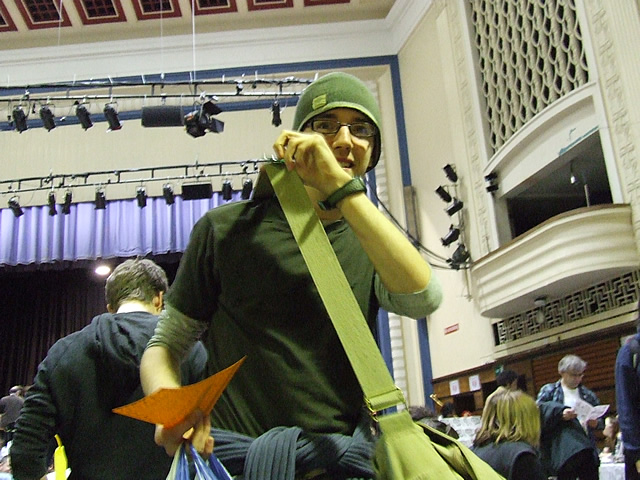 One of the other visitors was the charming Mike Rouse-Deane, who is the man behind Webcomics In Print and also the chap who made our lovely badges. We talked a bit and then later on he briefly interviewed me. He got my name wrong but that seems to be becoming a habit with him.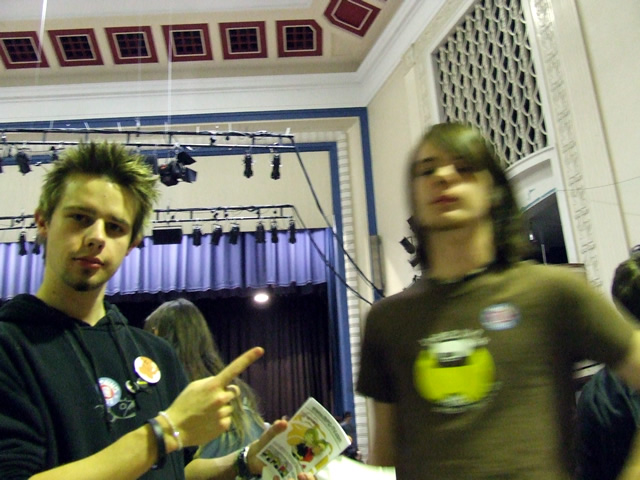 It was great to talk with Chris (sporting a finger), one of the co-creators of RPG-TV, who had an impressive table themselves, with a big stand behind them with their characters plastered on. The blurry man is his friend and he also had a comic but I've forgotten what it is now, sorry!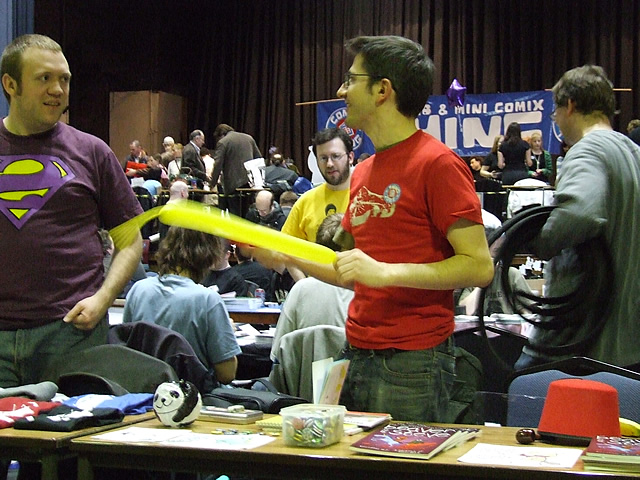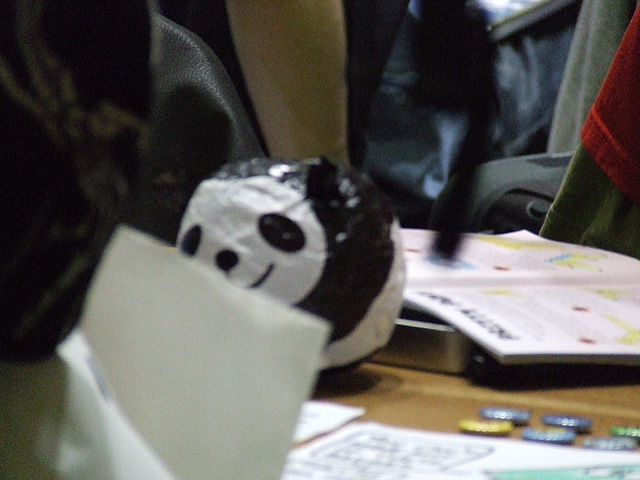 Situated opposite us was James Turner, the dude that makes Beaver & Steve, pictured here tying a rather rudely shaped balloon. He began making balloon animals when he wasn't busy. I saw one of his creations, a horse, had a sneaky willy between it's legs. James also had a delicate panda on his table. It had a mischievous smile, too mischievous if you ask me.
Towards the end of the day, I decided to hand out what canvases I had to other exhibitors like Lem, Ali, Jonti, Madsen, Liz, James, Edd, Jon and Matt. It's nice to know, I hope, they'll stick them up somewhere. And all too soon the day was over, as 5pm struck and Patrick Findlay (the organiser) shouted out that everyone should go away and exhibitors would be kicked out by 6pm. We packed up as fast as we could (I had slept very little the previous night, just 4 hours) and headed off to the station to get back to Oxford.
I must admit I had so much more fun than last year and I put that primarily down to the awesome company I was in, both friends, visitors and fellow webcomic creators. There had been some doubt over if the exhibition would be held in 2007 but I'm very glad it went on. Even better, I hear it'll most likely continue next year. I'm still too shattered to think about it but I'm sure when the exhaustion wears off in a week or two, I'll be begging for the 2008 event to come round quicker. There are one or two other conventions in the UK this year and depending on who else goes, I may too, so watch this space.