Click below to order the book.

Well it took long enough (no, I'm not talking about the new site design), but it's finally here! The first boot_error book now exists and I have it in my gorgeous hands! Here's the magnificent yellow cover:
Notice anything odd about that photograph? Yes...the front cover is infact on the back. This wasn't on purpose, but when I was sorting out the front and back cover designs, I got them mixed up. But don't worry, this is why I ordered a preview copy and the problem has now been solved. Huzzah!
Now here's the back cover (which is infact the front cover on this particular copy):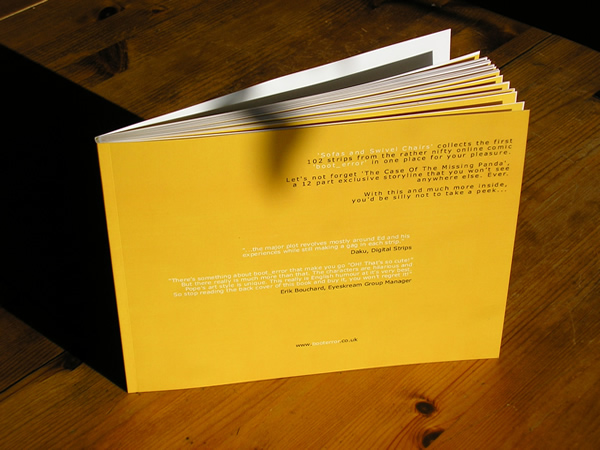 The book doesn't feel too small either; the paper is nicely thick and the colour has come out superbly and you can see all the detail as you would in the online strips, and more (which isn't always a good thing : P, but c'est la vie).
Now let's get down to details:
The book is 9" by 7" big (or small, depending which way you look at it)

82 pages of full colour bliss

The first 102 strips

Strip commentary by yours truly

An exclusive 12 strip storyline, entitled "The Case Of The Missing Panda", that you won't see anywhere else

13 more 'Uses for Duck-Tape'

A brief history of the comic

Never before seen concept sketches